We are very proud to be able to share our new salvaged and up-cycled lights with you. It all started with a selection of pipe fittings and a discontinued range of jewellery display lights which developed into a love of explosion proof industrial lights. We offer an array of reclaimed ship lights, ships pendants and ships wall lights.
Currently in stock are Daeyang ship lights believed to be Japanese squid fishing lights, in great condition. We always have a selection of battered ships pendants as well and a unique set of refurbished tubular explosion proof lights.
We also have a range of steampunk lights made from upcycled bike and car parts, we absolutely love them, totally unique and a celebration of ingenuity and our industrial past. The table lights we currently stock are approx 10kg each, substantial and cool, not to be confused with a cheap reproduction.
As well as this we have been working with aeroplane parts. We've made lighting bases from 747 wheels, back light pieces of fuselage and even air grills. At present we are working on a range of gold titanium tube pendants and matching wall lights.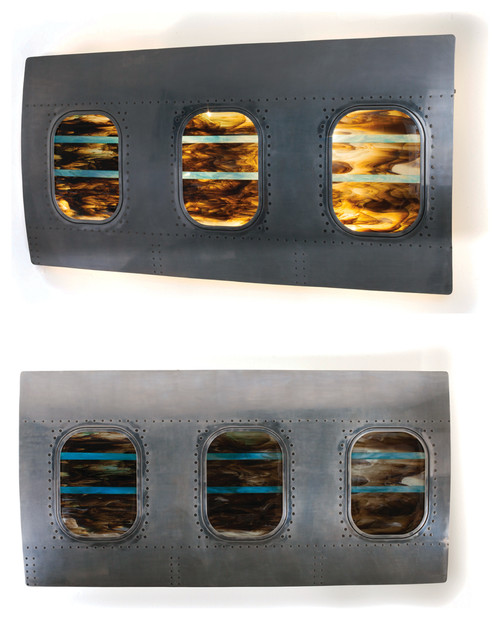 Most recently we have been experimenting with making lights out of rather unconventional bits and bobs including gramophones, more plane parts, street lights and anything else we can get our hands on. We are all very excited to be a part of this new craze and look forward to making many 'upcycled' lights in the future.
Like what you see? Want something made?
We love a bonkers lighting project so if there's something you're keen to create or commission, please get in touch. We can literally make lights out of anything.
Also take a look at our creations section on our website:
https://www.efficientlight.co.uk/creations-one-off-unique-lights.html